The problem report is used by Mudfish support team to analyze the mudfish problem. When it's reported to Mudfish team, you can check it at Mudfish Forums
Desktop / PC
Automatic Mode

To send the problem report, first you should click the pencil icon located at top-right of Mudfish Dashboard.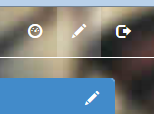 Then fill information and press 'Report the problem'. Normally it takes 2 ~ 3 minutes to submit the problem report.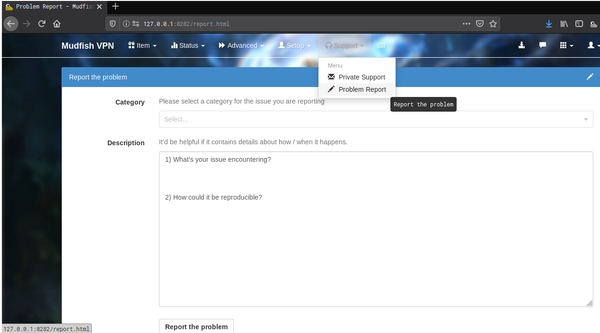 When it's successfully submitted to mudfish system, it automatically creates a "problem report" topic at Mudfish Forums. If you can't find a topic created for it, it means there's a unexpected problem. So you should resend it again.
Manual Mode

Sometimes sending the problem report could be failed by various reason (e.g. firewall block, routing problem and internet connection issue). At its environment, you can dump the problem report and send it to support@loxch.com manually. Please follow below steps:
Please make sure that Mudfish Launcher is running.
Opens Command Problem window then move to Mudfish's installation directory (normally it's C:\Program Files (x86)\Mudfish Cloud VPN).
Runs muddiag.exe -o
When it's completed, you can find muddiag_stdout.txt file. If it's enough big, please compress then send it to support@loxch.com email address.
iPhone

To send the problem report from iPhone, you can send it as follows:
Log in with your mudfish ID.

Reproduce your problem while Mudfish app is running.

Move to the main screen of Mudfish app.

Clicks "Welcome!" menu. At the popup modal, click "Problem Report" menu and describe your problem simply.

Then send it.