At this Item menu, you can equip or manage items. Currently the following menus are available:
Equip Item

Manage Item

You can manage the game item equipped such as changing the configuration for the items. Or you can create your own custom item.
Create Custom Item

Sometimes you'd like to use Mudfish for games which officially unsupported by Mudfish. Without using Full VPN mode, you can play the game with creating your own item. The following is a step by step instruction.
Instruction
Turns on Expert Mode with visiting 'Setup → Account' menu.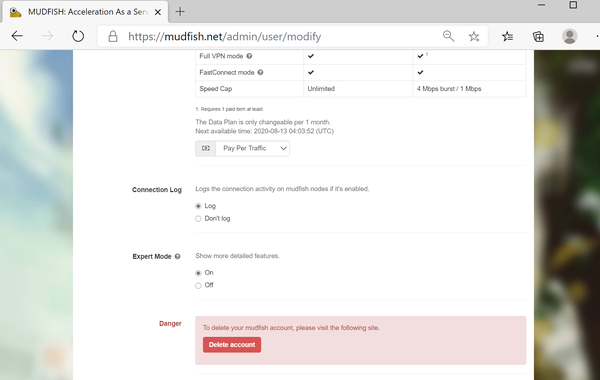 Moves to 'Item → Manage Items' menu. At there, you can see button. It shows 'Item Add' menu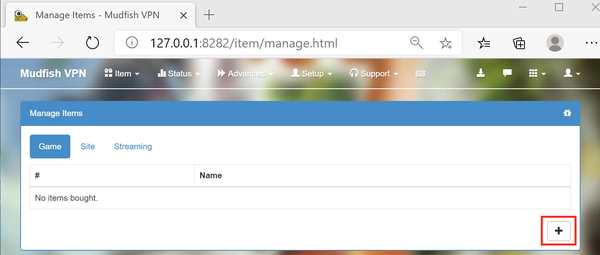 Please see the title and description for details. Please check the help text on the page.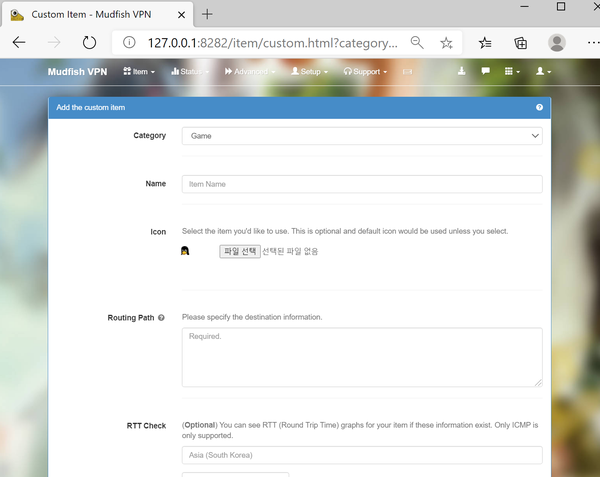 Please fill the routing table. Currently Mudfish supports three types of destination information:

If you know the destination's IP, you can put it based on CIDR syntax. For example:

Hostname

For example, you can put "www.google.com" or "www.mudfish.net" domains as the destination information. Then mudfish core programs try to resolve it to IP address and register it based on CIDR /24

Process Name

From Windows 8+ and mudfish v4.5.1+ Mudfish package is shipping MUDWFP (Windows Filtering Platform) driver with the installer.

Please note that MUDWFP doesn't support Windows 7.

You can redirect the traffics based on per-process basis. For example:

This syntax tries to redirect the traffics from firefox.exe processes.

"RTT Check" is a optional but if you'd like to see RTT information between your desktop and game servers via Mudfish nodes please add a destination using ICMP protocol

When you create your item, you should restart Mudfish at least once.