Is there a free trial version of Mudfish I can use?

No. However when you verify your email, small amount of Mudfish test credit is funded into your account. It'll be delivered to your inbox when you first sign up.
How can I get Mudfish test credit?

It's automatically funded into your account when your email is verified.
How long would it take to consume $2.99 credits?

Frankly speaking, I don't have answer for this question because it depends on your plan and depens on how you use Mudfish.

For example if your data plan is Subscription and have 4-1 voucher (cost is 990 KRW), it'll last for 3 months. But if your data plan is Pay-Per-Traffic, it could be longer than 6 months or shorter than 1 month depending on your traffic usage.
When does the mudfish credit expire?

Never happen. :-) Even if you don't have time to play with Mudfish for years, you don't need to worry.
I don't want to be auto billed for service!

You don't need to worry about it. At Mudfish, it doesn't have a concept 'auto billed' at all. Mudfish Credit is only funded when user buys it on demand.
I bought mudfish credits but it charges additional 1 USD charge!

That's because the $1 charge is actually a temporary preauthorization from your credit card company, basically giving the merchant the green light to charge your card for the full amount when your final purchase is made.

So you don't need to worry about it because it'll be automatically cancelled within few days normally.
I bought $3 USD mudfish credits. How long can I keep playing the game?

Frankly speaking, I don't have idea. It'd be very vary depending on your traffic patterns. At current rate (01/20/2016), 135 KRW (South Korean Won) per 1 Gbytes is general a price table and $3 USD is about 27 Gbytes by current exchange rate.

If your data plan is Pay-Per-Traffic, you can play the game with Mudfish until all traffics are gone.
How to pay for this, I don't have paypal.

Unfortunately Mudfish only supports both Paypal and Bitcoin. Is there any proper method to use? Just ask us for your preference.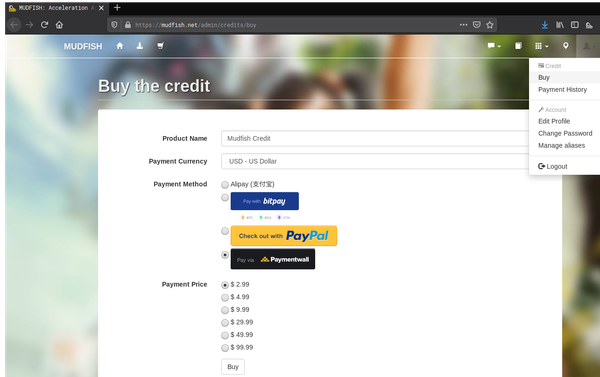 Verified email, but there's no free credit for me to test the service.

Oops. Sorry for this inconvenience that sometimes it's not added properly due to double-credit-payments protection algorithm. Please create a topic for this issue at dashboard. We'll handle it for you.
What is the difference between the credit balance and traffic balance?

Frankly speaking, it's same. It's simply to show information how many traffics are available with current credits.
A little Mudfish Credit is charged even if I'm not playing the game!

This symptom is very normal because Mudfish Credits are charged based on how many you used the traffics. It means that even if you didn't play the game (just turning on Mudfish), the traffic could be used because:
your Mudfish client connects with our VPN servers and sends small packets for heartbeat to keep.

Mudfish's network is based on Layer 2 of OSI (Open Systems Interconnection) indicating ARP and Broadcasting packets could be transferred from your desktop to VPN server or from VPN servers to your desktop.
Please note that the charged amount of Mudfish Credit would be very small and usages of traffic are always checkable at "Account Management" (http://accounts.en.loxch.com/) by visiting 'Accounts → Traffic Usage'.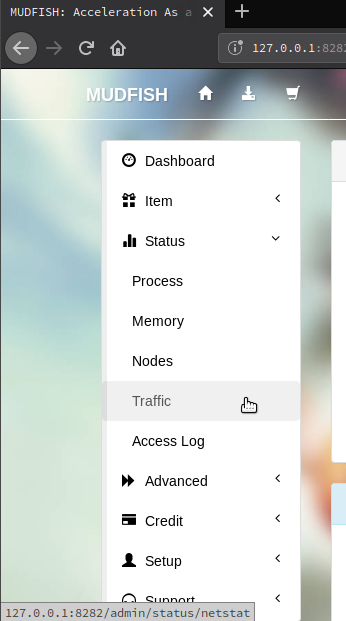 However if usages of traffic are abnormal, please make sure that your account is kept safe and Full VPN feature turns off.
Does it consumes credits if I use browser (stuff like youtube and such) with mudfish open?

Its answer is simple. If Full VPN mode is on, it'll be yes. If it's not on, it isn't.
Can I stream my game on Twitch or YouTube while using Mudfish?

Yes. I don't thing it costs your mudfish credit unless you're using Full VPN mode.
Why my traffic get wasted while I am sleeping?

This has a history of Mudfish. When I first released Mudfish package with pay-per-traffic data plan, it doesn't consume much CPU and memories of master server to calculate all user's traffic bytes and charges a mudfish credit in real-time. But it was getting worse and more worse whenever total no. of users are increased and finally it affects all service quality of master server. At 8/15/2015 I'd re-implemented the traffic handling code and changed the default policy as follows:
Master server tries to aggregate as many as it can for user's traffic bytes to reduce CPU load and memory usage.
Actual credit charges could be delayed up to 1 ~ 2 hours after terminating Mudfish Launcher. Most of them are handled within half a hour after stop of Mudfish.
How to verify my traffic usage?

If you'd like to verify the traffic usages of Mudfish, you should explicitly enable "Connection Log" which is found under "Setup → Account → Edit Profile" menu. Its default is off to protect yours' privacy.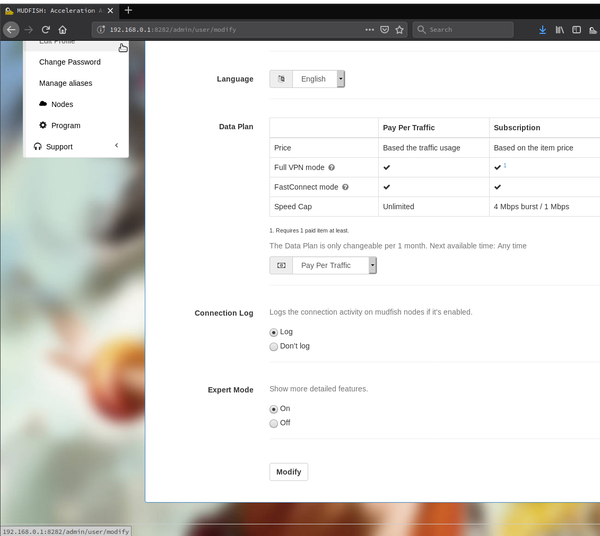 However please note that at "Status → Access Log" menu only show traffics whose input / output bytes are larger than 1 Mbytes. If you'd like to see full access logs, please visit http://accounts.en.loxch.com/ link.
Does using advanced mode (2 nodes) consume traffic twice as basic mode?

No. It still consumes same cost.
If I buy mudfish credit from google play store, can I use that same credit to play desktop games?

Yes. It's same and connected each other.
My traffic balance is changing even if I didn't use Mudfish for a while

If your currency is one of USD, AUD, JPY and CNY for your Mudfish account, the traffic balance could be changed depending on the exchange rates between your currency and KRW because the traffic balance is calculated based on KRW.

If you want to keep the fixed traffic balance, you need to change your currency to KRW.