When Mudfish program communicates with mudfish nodes, as default, UDP (Port 10008) is used.
If you're under the network firewall or the default doesn't work on your environment, you can try to change the connection protocols to others as follows:
TCP (Port 10008)
TCP (Port 443)
TCP (Port 10006)
UDP (Port 10008)
UDP (Port 53)
UDP (Port 10006)
UDP (Port 10012) - FEC based
How to change

To change the connection protocol for Mudfish, please visit "Setup → Program" menu.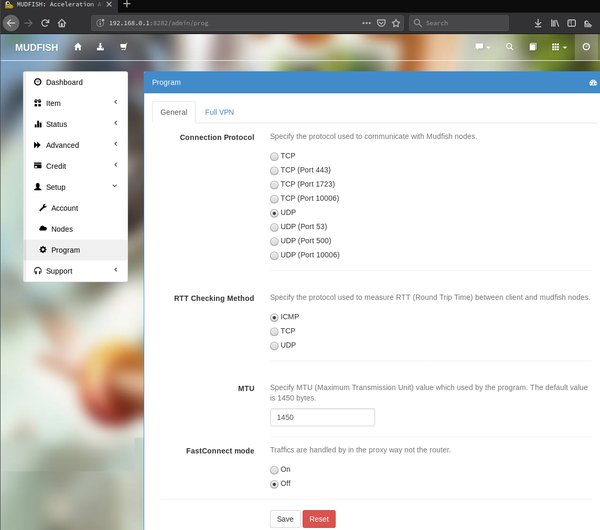 However, all list are available only if you enabled Expert Mode of your account.
The pros and cons

Due to the difference between TCP and UDP, which are Internet standard protocols, the Layer 4 protocol is completely different. This can be said that it inherits the advantages and disadvantages of each protocol. Here is the pros and cons of each protocol:
TCP
Advantages

The chances of being filtered by a firewall are minimal.
MTU (Maximum Transmission Unit) issues do not occur.

Disadvantages

The speed is slow compared to the UDP method. If a packet loss occurs in the middle mile, a ping spike or lag may occur in the process of recovering it.

For example, if a game client is a UDP-based game, the connection can be quite bad to perform unnecessary packet loss recovering.
UDP
Advantages

Best way to process the packet. More faster and simple.

Disadvantages

Due to firewall policy, the UDP protocol may be blocked in government offices / schools / company.